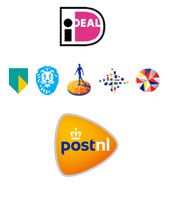 Italiaanse Specialiteiten
EXTRA Jam of "WILLIAMS" PEARS Pear puree Williams, sugar.
€ 3.25
Onions"Borettane" Onions with Balsamic vinegar of Modena I.G.P.
€ 2.99
Green Olives "Bella di Cerignola" in brine Olives, water, salt.
€ 2.75
Linguine Durum wheat semolina, water.
€ 2.99
Crushed & spiced green olives "del casale" in oil Olives, sunflower oil, peppers, wine vinegar, salt, ar...
€ 2.99
Three colours "orecchiette" Durum wheat semolina, water, dehydrated tomato, dehydrated spinach, red chard.
€ 2.99
Peppers Stuffed peppers with cheese in oil semi-hot
€ 5.25
Pesto alla Genovese Basil, sunflower seed oil, cashews, olive oil, sugar, salt, parmesan cheese, potato flak...
€ 2.75
Sauces Tomato sauce with basil
€ 2.75
Weergave van 1 tot 9 (van 9 artikelen) Resultaatpagina's: 1